Non-flammable freon r410a/r-410a refrigerant gas Description


1.Refrigerant gas r410a Freon has replaced R-22 as the preferred refrigerant for use in residential and commercial air conditioners
2. Refrigerant gas r410A freon does not contribute to ozone depletion, and is therefore becoming more widely used.
Product Basic Information





Product Name

Refrigerant gas r410a

Purity

99.9%

Packing

11.3kg/25lb disposable cylinder

Place of Origin

Zhejiang,China

Port of Loading

Ningbo,Shanghai

Minimum order

500pcs

Payment term

T/T, L/C at sight

Lead time

15days

Loading

1150pcs/20ft

Warranty

3years

Application

·Replace r22
· Household air conditioner.
· Refrigeration dryer.
· Marine refrigeration
· Industrial refrigeration
· Commercial refrigeration.
Non-flammable freon r410a/r-410a refrigerant gas SPEC
| | |
| --- | --- |
| Model | R410a |
| Molecular Formula | CHF2CF3/CH2F2 |
| Molecular Weight | 72.58 |
| Boiling point 101.3Pa(°C) I | -51.6 |
| Freezing point 101.3Pa(°C) | - |
| Density 30°C(kg/m) | 1038 |
| Critical pressure(MPA) | 4.95 |
| ODP | 0 |
| GWP | 2000 |
| Purity | ≥99.8% |
| Water content | ≤0.001% |
| Acidity | ≤0.0001% |
| Evaporation residue | ≤0.01% |
| Chloride content | ≤0.0001% |
| Appearance | Colorless and clear |
| Odor | Odorle |



How to storage


1. Store in cool dry place ,don't expose to temperature above 50C .
2. Do not expose to direct sunlight or other heat sources,it may burst if heated.
3. Do not puncture ,throw into fire or incinerator.

Company profile



JINHUA SLIHE CHEMICAL is locatd in Zhejiang province, it is main production base for refrigerant. We have r134a r410a,
r404a,r507,r32,R290,R1234yf and so many other new type. Currently we exported to Italy ,Poland, Romania,UK,Portugal,
Russia,Brazil,Morocco, Nigeria,South America and some country in Middle East . With the concept of quality first ,customer
first,wetake zero complaint since 2010 until now.






Product list we have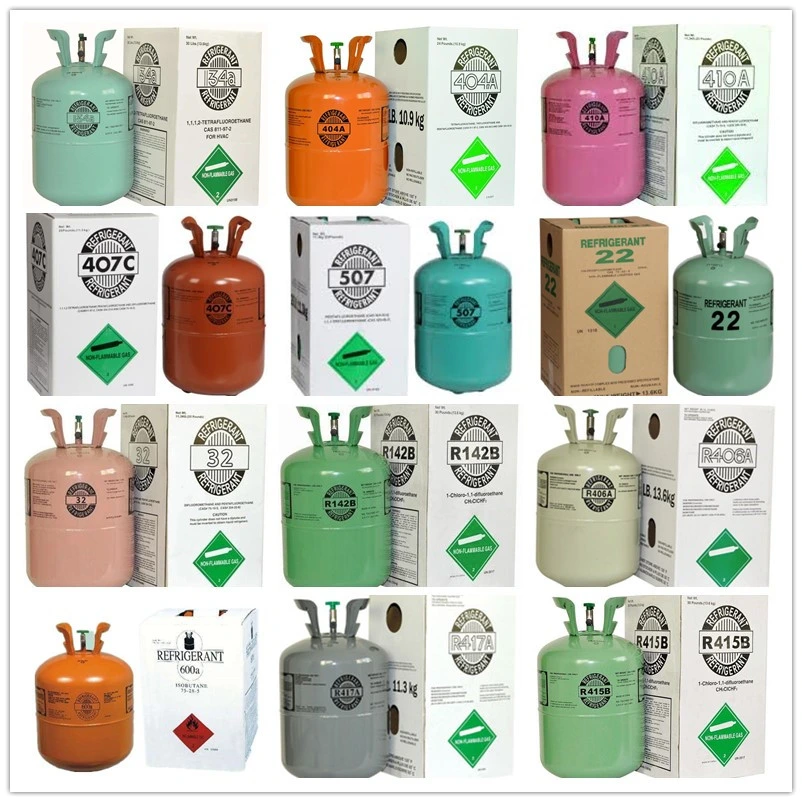 We have other product such as r-1234yf ,r402a, r402b,r438a,r422d,r448a,r449a and so on ,pls feel free to contact us if you have any inquiry.
Maybe you care about the questions as below :
1. How to gurantee quality ?
We welcome you to visit our factory before order ,or authorize third party to test quality at any time. We promise return back all funds if the quality is not up to standard quality.
2. What is minimum order ?
Refrigerant gas is dangerous product ,they can't be shipped by LCL ,generally we must ship by full container , if you load little quantity in one container ,the price will be a little higher . welcome you to discuss detail with us, we will give you better solution.
3. What is lead time ?

It take about 7-15days for big cylinder,if you order small can such as 1kg canister, it is about 20days after get deposit .
4. What is your payment term ?
T/T ,L/C at sight and other payments depend our discussion.
Do you want to know more details ? Pls don't hestiate to contact us as below: